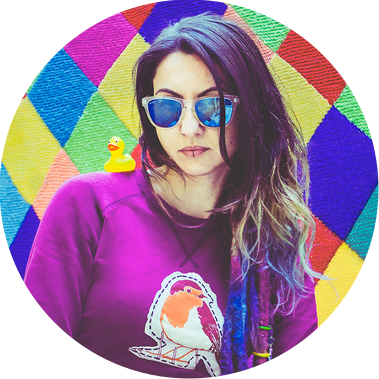 BIO
Elisa von Brockdorff is a visual artist and freelance photographer based in Malta. Recently she has also been experimenting with music production. In 2019 she delivered a number of lectures in photography at the University of Malta.
In 2009, she received a Masters Degree in Fine Art from the University for the Creative Arts in Canterbury (Kent) in England, where she focused on both photography and installation art. Prior to this, she obtained a degree in Psychology. She held her first solo photographic exhibition, Plastic Dreams in 2012 at Lily Agius Gallery, Malta.

Apart from Malta, Elisa has also participated in shows in England, Brussels, Italy and Luxembourg. Her work has been featured on international art and fashion blogs and sites including Lost in E Minor, The Trend Hunter, Institute Magazine and Vogue.it.
Some of her clients include the University of Malta, Valletta Cultural Agency, Spazju Kreattiv, Ziguzajg Children's Festival, Science in the City, Teatru Malta, More or Less Theatre, The Malta Philharmonic Orchestra, Excelsior Hotel, Hotjar, Blonde and Giant and the Malta Arts Council.

For bookings, quotes, prints, info, comments or queries, contact me at elisa@elisavb.com.

Represented by Lily Aguis Gallery and Prints Please
ARTIST STATEMENT
My art involves setting up still lives and juxtapositions, constructed from familiar and mundane objects. By adopting a playful approach whilst hinting at irony or humor, one of my main intents is to challenge the objects' conventional function, by presenting them within a different context. This is then either presented through the form of an installation, or else documented through photography, which keeps the work alive once the objects have been removed.
EDUCATION
2007-2009: MA Fine Arts - University College for the Creative Arts, Canterbury, Kent, UK
2004-2006: Diploma in Foundation Studies in Art & Design - MCAST, Art & Design Institute, Mosta, Malta
2000-2004: Hons. Degree in Psychology - University of Malta
SOLO/ COLLABORATION SHOWS
Jun 2020 - : The Little Things, La Bottega, Valletta
Sep 2013 : C, a collaboration with fashion professionals & designers, St.James Cavalier, Valletta, Malta
Feb 2012 : Plastic Dreams (Solo show), Lily Agius Gallery, Sliema, Malta


GROUP SHOWS
2019
Nov: Hackable Animals, Casino Notabile, Mdina, Malta
Sept: A Portrait of Sel(ves), Stock Exchange Valetta, Malta
2017
Nov: Human Matter, Society of Arts, Palazzo De La Salle, Valletta, Malta

2015
Feb: After Selfie, St.James Cavalier, Valletta
Apr: Fluxus, Studio 104, Valletta
May: After Selfie, Palazzo Trentini, Trento, Italy

2014
Jun: The Summer Collective, Lily Agius Gallery, Sliema, Malta
May: Malta Design Week, St.Elmo, Valletta, Malta
Sept: Selfie, Studio 104, Valletta
Oct: Divergent Thinkers, Dar l'Europa, Brussels
Nov: Root, Maritime Museum, Birgu

2013
Oct: Divergent Thinkers 2, St.James Cavalier, Valletta
Jun: Din Miex Tazza, Birgu

2012
Sep: Science in the City, St.James Cavalier, Valletta
Sep : Runway Malta, Montekristo Wine Vaults, Siggiewi (Collaboration with Elisha Camilleri)
Jun: Wiccimbwicc, Malta Arts Festival Exhibition, St.James Cavalier, Valletta
May: 6:6, Lily Agius Gallery, Sliema, Malta
May: Malta Fashion Week, St.George's Square Valletta
Mar: Anti-grey-Zone,Culture Inside Gallery, Luxembourg

2011
Nov: Science and Society, Lily Agius Gallery, Sliema, Malta
May: Lily Agius Gallery, Sliema, Malta
May: Valletta Photography Festival, Auberge d'Italie, Valletta,
May: Malta Fashion week, The Point, Tigne, Malta

2010
Aug: His Chair, St.James Cavalier, Valletta, Malta
Jun: Relocation, BOV Head Office. Santa Venera, Malta
May: State of Creation (Culture Inside), Chamber of Commerce, Luxembourg
Feb: Deception, Lascaris Wharf, Valletta, Malta
Jan: A New Generation, Malta Contemporary Art, Valletta, Malta

2009
Nov: Digital Arts Expo, Intercontinental Hotel, Paceville, Malta
Sep: MA Show, University for the Creative Arts, Canterbury, England
Apr: Square, No 68, Valletta, Malta

2008
Dec: Eight Eighteen, MCA (Malta Contemporary Art), Marsa, Malta
Jul: Mile of Paper, Museum of Fine Arts, Valletta, Malta
Jun: Digital Arts Expo, Hilton, Paceville, Malta
May: Earth Garden Festival, Ta Qali, Malta

2007
May: The Search for a Space, Valletta, Malta

2006
Jun: MCAST Art and Design Diploma Show, St.James Cavalier, Valletta